Spot the Difference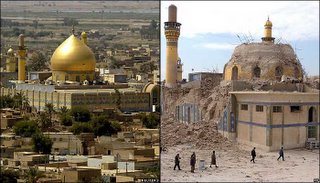 Here are photographs of two holy places that have been recently obliterated.
One of these obliterations was caused by a bomb; the other was caused by a politician who needed a little more leg-room; one of these holy places is Jewish and one is Muslim.
Guess which one has not even been mentioned on the BBC?
Happily, I can report that Rabbi Lionel Blue, Melanie Phillips and Vanessa Feltz have not claimed this wanton destruction is worse than the Holocaust or a 911. No one has set fire to the Tajikistan embassy in London (is there one?).
Sadly, however, when the BBC does do a desecration story it blames
the wrong people
.
"Israeli tolerance museum", eh? Obviously the BBC cannot tell the difference between "Israel" and the "Los Angeles-based Simon Wiesenthal Centre"? Ah well, they're all Jews, aren't they?